Featured works: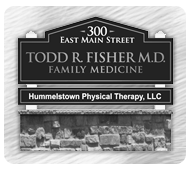 Identiphics created a new logo, stationery package and building signage for this newly relocated doctor's office in Hummelstown.
View the full scope of work on our portfolio page.


Consultation: We like to begin large projects with an initial consultation to discuss the scope of your project and introduce the Identiphics design process.

Estimate: After this discussion, most jobs are estimated on an individual fixed-price basis. We realize that marketing budgets fluctuate, and we work with you to determine the best solution to fit within these budgets or time constraints.
Agreement: We only begin your project once you are confident that the proposed solution will meet your business goals.

Execution: We provide multiple design options for most projects. For a logo design, for example, we usually provide 3-5 options to capture a variety of styles, allowing us to reach the final logo more quickly. For a website design, we provide two design options for the home page. Once one of these designs is finalized, we then move on to developing the remaining pages.

View a logo project example from start to finish >
View a web project example from start to finish >

Finalization: If printing is required, we work directly with the print vendor to get you the best pricing and to ensure that the final product is produced as expected and in a timely manner. A project is considered to be complete only after you have given final approval and are happy with the results.